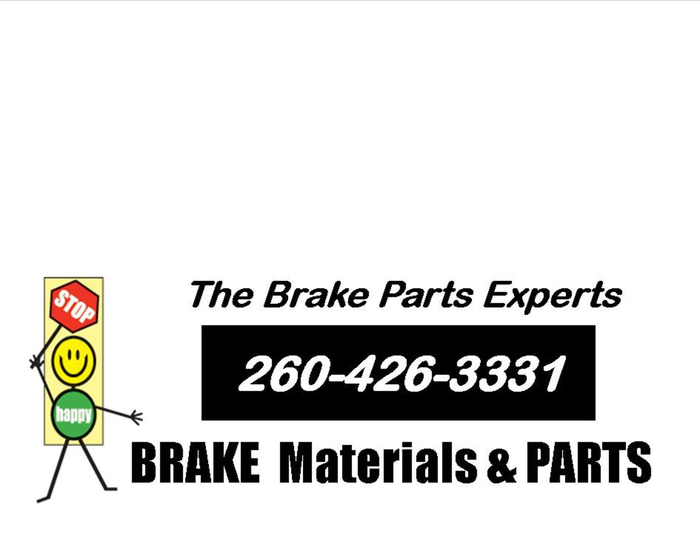 Basic Brake Questions
What causes brakes to squeal?

There are a number of reasons why a person can experience brake noise. Sometimes brake squeal can be an indicator that there is a problem. Maintenance is required if you experience brake squeal for any of the following reasons:

Lack of friction material (brakes need to be replaced)

Loose fitting brake in the caliper

Loose fitting or missing brake hardware (i.e. shims, anti-rattle clips)

Loose lug nuts or caliper hardware

Debris caught between the rotor and the surface of the brake pad

Heat cracked or worn rotors

Uneven finish on resurfaced rotors

Sometimes a user may experience brake noise when no maintenance is required. We call these NVH (Noise, Vibration and Harshness) issues. Brake squeal is typically caused by vibration between the brake pads, rotors and brake calipers. Some brands of semi-metallic brakes are more likely to experience brake squeal due to the metallic ingredients in the brake pads. We are sure to use products with great reputations for being low noise and high performance.

What can I do during installation to ensure my brakes won't squeal?

First, contact The Brake Experts at Brake Materials and Parts and our knowledgeable staff will assist you in determining the proper brake friction needed for your specific application. The next best steps you can take to avoid having noisy brakes are:

Turn / machine the rotors / drums (machining off a small layer of the brake rotor to make it smooth again)

Wash and dry rotor / drum with dishwashing soap and water to rid of debris

Apply a thin layer of silicone lubricant at metal to metal contacts, on back of disc pad and on guide pins

Install the pads / brake shoes securely and according to instruction

Properly bed-in the friction according to instruction

Why should I perform a break-in procedure on new brake pads?

Correct brake pad break-in (bedding) is important to assure quality braking performance over the life of the pad. This procedure allows the rubbing surface of the brake pad to slowly be brought up to temperatures. Proper bedding creates a transfer layer film of friction material to be applied to the rotor surface. This increases the stopping performance of the brake pad and can reduce pad and rotor wear.

What is the proper procedure for breaking in new brake pads?

Brake pad break-in procedure:

After reaching medium speed engage brake pedal to slow car without coming to a complete stop. Release pedal quickly and do not drag brakes. Repeat four or five times.

At higher speeds engage brake pedal to slow car without coming to a complete stop. Release pedal quickly and do not drag brakes. Repeat five times.

At or near race speed engage brake pedal to slow car without coming to a complete stop. Release pedal quickly and do not drag brakes. Repeat three times. Allow a few seconds between brake engagements while car is in motion.

Do not hold brake pedal. Park car for approximately 20 minutes or until brake rotors are completely cool to the touch.

*If during the above steps the brake pedal becomes soft of brake fade is noticed, park the car immediately for approximately 20 minutes. Do not hold brake pedal.

Important Reminders:

Do not attempt to use badly worn or damaged rotors with new brake pads.

Do not drag brakes while car is moving during break-in procedure.

Do not engage pedal while car is stopped at any time following the break-in procedure.

Upon completing the procedure, allow the brake system to completely cool.

How can I tell by looking at the brake pad if my pads have been glazed over?

When a brake pad glazes over, the friction surface develops a cloudy or glassy-looking coating. It is possible to remove the glazed surface by using sand paper to grind away the damaged layer and expose a new layer that will require the proper bedding procedure.
Booster Rebuilding Questions
How much?

The cost depends on the unit. Complete the online Quote Request, email BrakePartsSTOP@aol.com, or call 260-426-3331 to talk to our friendly staff who will be happy to give you a quote.

How long to rebuild?

Generally it takes 2 to 6 weeks depending on the style of booster to complete once the unit is received in house.

How do I ship?

Any carrier of choice is acceptable. Use a strong, well-padded box and drain all fluids before shipping to:

Brake Materials & Parts

800 Sherman Blvd

Fort Wayne, IN 46808

Please include the completed ORDER form or a note with your name and contact information and the year, make and model of the vehicle. Please include any specifications or additional instructions if needed.

How do I pay?

We will contact you when the unit is completed. At that time we will request your credit card information. Please do NOT include this information via email for security purposes. We accept Visa, Mastercard, Discover, and American Express. We do not accept out-of-state checks. Money orders are accepted but will delay shipment. Payment must be made before we will ship your order.

How do you return?

We will return the booster via UPS ground or Best Way to the address you requested unless otherwise specified.

Do you offer exchange units?

For the most part we R & R your unit, but for some units we offer exchange. Please contact us at 260-426-3331 for additional information.

What kind of finish do you offer?

We use standard automotive black paint or at an additional cost we offer an optional powder coat hard finish.